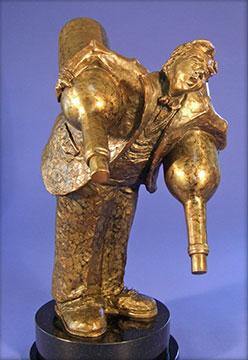 Are You Dining Alone?
Original price
$4,300.00
-
Original price
$4,300.00
Dimensions:  17" h x 11" w x 12" d
Medium:  Bronze
Edition Size:  40
Availability:  Available
     Wine is meant to be shared.  As social creatures, we have a deep desire to be with others.  The  "Dining Alone?" man is leaning forward, poised to connect another wine lover.  Perhaps the opening line to the lady who has caught his attention will involve the virtues of his favorite vintage.  Yet another interpretation of this piece is that he is proudly serving some of the best from his cellar, anticipating a wonderful evening ahead.
     This sculpture actually started in the upright position.  However, the weight of the two bottles and the heat of a particularly hot summer day combined to make the figure, then modeling clay, slump forward.  It turned out to be the perfect position, evoking the feeling of the figure reaching out to another person.  Often my best work is 10% planning and 90% experimentation and accidents.  The key is maintaining a free-flowing attitude so you can embrace these "mistakes" for the gifts that they become.