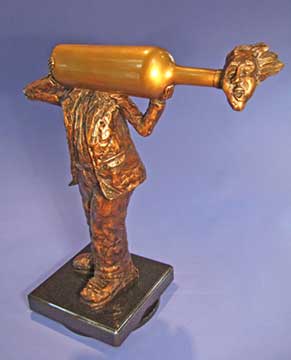 Wine Speak
Original price
$3,800.00
-
Original price
$3,800.00
Dimensions:  20" h x 18" w x 6" d
Medium:  Bronze
Edition Size:  40
Availability:  Available
     "Wine makes a man mistake words for thoughts." Samuel Johnson [Quote on base of bottle]
     As I created "Wine Speak", right away I knew that the sculpture worked on multiple levels of meaning.  First, we all must admit that wine lubricates the mind, sometimes a little, and occasionally a little more than we wish. Our "wine speak" may not be our most articulate pronouncements; however, it may reveal a little more of our hearts, and in the process laying another brick on the foundation of a friendship.
   In a completely different way, "Wine Speak" is a jab at the special language that we (wine lovers) often find ourselves talking.  What is gobbledygook to others, makes perfect sense to an oenophile.   As long as it's not overly done, a little "wine speak" can truly enhance the enjoyment of a bottle of fine wine.  Hopefully, a beautiful sculpture can do the same.