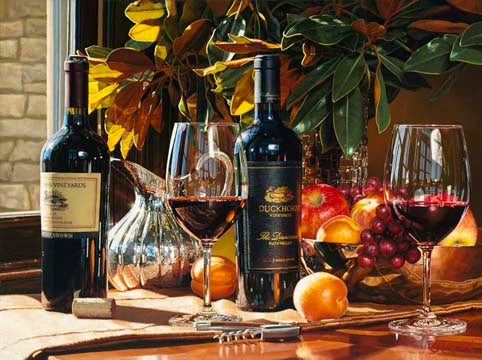 Up for Discussion
Original price
$1,650.00
-
Original price
$2,575.00
Dimensions:  24" x 32", 36" x 48"
Medium:  giclee' on canvas
Edition Size:  150 small, 100 large
Availability:  Available
An Oil painting of extraordinary realism by America's foremost Watercolor Master!
What you see before you is an extraordinary work of art in any medium – but what makes this so special is that it is an oil painting by America's foremost watercolor master! Every inch a Christensen, this exquisite piece is a loaded with detail and richness not likely found among those produced by the most experienced oil painters. Can you find the three ducks in the composition? Two of them are on the bottles' labels, and the third is a duck head and beak formed by the handle of the silver pitcher as seen through the wine glass on the left.
The powerful shine from both the silver water pitcher and the hammered copper bowl produces reflections so real and deep, you might imagine trying to see your own if you stood in front of either! The afternoon sunlight turns the Magnolia leaves nearly transparent, revealing their velvet-soft texture on their golden underside. There are so many brilliant reflections and details, finding the favorite will always be "Up for Discussion!"