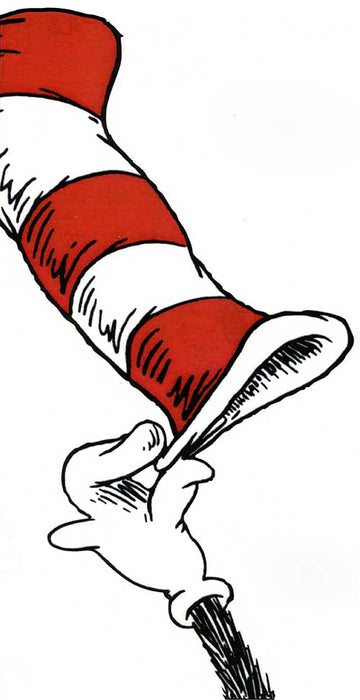 There Is No One Alive Who Is You-er Than You
Click to view image and pricing
Call 650-322-2200 for pricing
Dimensions: 24" x 36"
Medium: Giclee' on canvas
Edition Size:  850
Availability:  Available
Year of Release:  2022
CLICK HERE for a complete overview of this artwork.
Ted Geisel, aka Dr. Seuss, wrote those words in 1959 as the hallmark passage to his book, Happy Birthday to You! But like many Dr. Seuss books, what appears at first glance to be a phrase full of fun and whimsy is actually something infinitely more impactful.

Ted implores us to celebrate ourselves in these words and images. He inspires us to embrace our own unique qualities and express our differences to the world. This theme permeated much of his work throughout his career, always encouraging us to be true to ourselves and recognize the individual traits that make each one of us special.
The Painted Books
Ted's simple use of pen and ink line drawings was a powerful way for him to create page-turning action that was attractive and engaging to a young audience. The flat colors used would pull us through his stories whether we were old enough to read the text or not, and this technique also solved the budgetary constraints of creating books that parents could easily afford for their children.
However, on very rare occasions, Ted was able to break with this tradition and create books with fully developed paintings in a wide spectrum of lush, blended colors. Happy Birthday to You! stands as one of the most important in that regard. Here, Ted takes his paintings to new heights, maintaining the fast paced action of his line drawings but infusing each page with a depth matched only by the private paintings he would create in his studio at night for his own enjoyment (known to most as his "secret art" or "midnight paintings")
Those familiar with Ted's "midnight paintings" will recognize the crossover here. All of the nuance, architecture and immersive palette of his paintings are alive and well in the images done for Happy Birthday to You! It's as if he pulled his easel over to his drawing table, switched his pens for paint and brushes, turned down the lights, and went to work creating one of the most dynamic series of paintings he'd ever embarked upon.