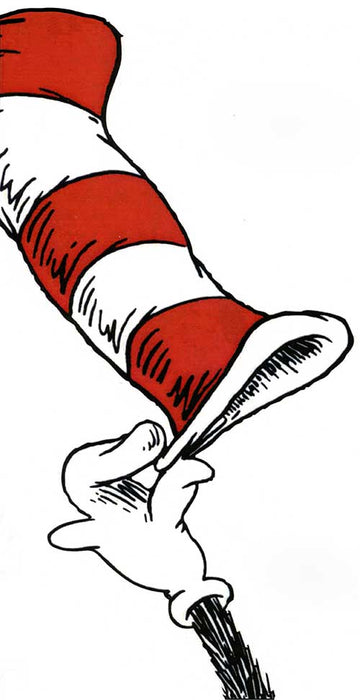 The Seasick Walrus
Click to view image and pricing
Call 650-322-2200 for pricing
Dimensions: 6.37"h x 7.25"w x 4.5"d 
Medium: Hand painted Cast Resin Sculpture
Edition Size:  850
Availability:  Available
Year of Release:  2019
CLICK HERE for a complete overview of this artwork.
IT'S ALL ABOUT FRIENDSHIP
Very few original Dr. Seuss works ever made it out of Ted Geisel's (aka Dr. Seuss) private collection. However, when they did they were typically gifted to close friends, family, or a charitable cause that Ted felt passionately about supporting. 
Mitzi Long was Ted Geisel's neighbor and cherished friend in La Jolla, California. Her patio was close enough to Ted and Audrey's that the two couples often convened for "5 o'clock cocktails on the terrace." Ted even dedicated his 1965 book, Fox in Socks to Audrey and "Mitzi Long of the Mt. Soledad Lingual Laboratories."
That year, Mitzi unexpectedly became ill on her birthday and had to cancel a planned celebration. As a consolation for the defunct party, Ted hand-delivered to her a work of art he had created decades earlier -The Seasick Walrus. This incredibly generous gift was a testament to Ted's feelings toward those most important to him. Friendships played a pivotal role in his entire life. From his lifelong Dartmouth friends to those he met later in California, Ted never missed an opportunity to acknowledge their unending value.
THE REDISCOVERED TAXIDERMY SCULPTURES
Researching the artistic legacy of Ted Geisel can, at times, feel like the work of an archeologist searching for lost artifacts of an ancient civilization. Ted was incredibly prolific throughout his entire life and, while many works from his early career were documented, others have fallen into obscurity.
Until recently there were 17 known Taxidermy works created by Ted Geisel in the early 1930s. Each work has since been meticulously reproduced in small limited editions as part of the Art of Dr. Seuss Collection, with the majority of these works either sold out or exceptionally rare in their availability.
Four additional works have surfaced from various private collections and archived imagery. Such exciting discoveries are rare since Ted Geisel seldom parted with his original works. The Seasick Walrus marks the first work to be included in the Rediscovered Taxidermy Collection from the Art of Dr. Seuss. The other three rediscovered works include (left to right above): The Mugglesmirt, The Cruel Hack-Biter, and The Flower Pot Walrus.