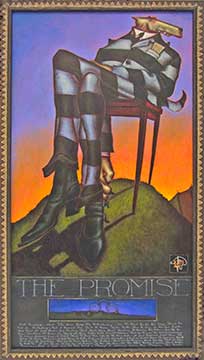 The Promise
Original price
$15,000.00
-
Original price
$15,000.00
Dimensions:  24" x 45 1/2"
Medium:  Mixed Media on Board
Edition Size:  1
Availability:  Only available at Peabody Gallery
 "The Promise"
Late evening, and the sun begs my understanding, as he must be on his way.  There's no point in protesting, but I remind him that he never looks better than he does in his last light, and that it just makes our parting that much more heart - wrenching.  He promises his return, and off he goes.  Sometimes it seems as though I've been fitted with special glasses that see beyond the mist of complacency to where splendor lay.  I didn't mean to love this life in the way I do - it just happened.  Didn't mean to cling to every moment, didn't mean to notice profound beauty everywhere I looked, didn't mean to imprison myself to a love of something that could never return the feeling.  There are no promises made by life that it can be held to - it can be as fickle as it desires to be.  The sun, on the other hand, promises me a golden tomorrow and I take him at his word, though I always cross my fingers for luck.