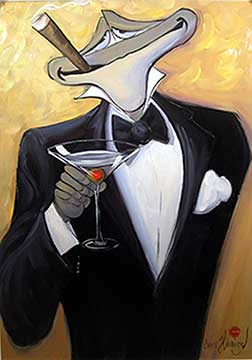 The Martini Connoisseur
Original price
$350.00
-
Original price
$900.00
Dimensions:  14" x 20", 34" x 24", 42" x 30"
Medium:  giclee' on canvas
Edition Size:  100 small, 50 medium, 50 large
Availability:  Available
Greetings from the Plantation,
     Francois and I have just arrived and are catching our breath before we put the final touches on the Martini Festival beginning on Saturday.  We visit with Salvador and Evita Perez and their family every year at this time when the most recent olive harvest has been cured to perfection.  They have a magnificent plantation about forty-five minutes out of Rio.  I love coming here; we saddle horses and ride through the olive groves.  The plantation is quite large; they must have at least twenty thousand acres.
     Sal and Francois have been experimenting with various combinations of olive plants for years in an attempt to find just the right match for the perfect martini olive.  Well, this is the year of "THE" olive, and the First Annual Martini Festival; a week dedicated to celebrating the martini.
     The guys begin their day riding through the olive groves inspecting the fruits of their labors.  Francois, always dressed for the occasion, looks dashing in his white linen suite and Panama hat, as he rides through the hills with Sal.
     I must rest up for the festivities; I am concerned it may take a month to recover.  Picture us relaxing in Rio.