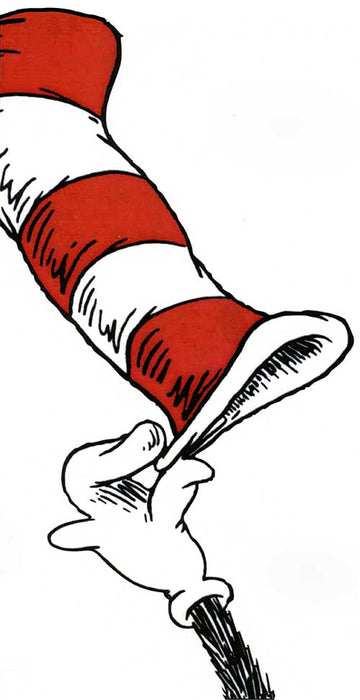 The Great Cat Continuum
Click to view image and pricing
Call 650-322-2200 for pricing
Dimensions:  26" x 39"
Medium: Giclee' on canvas
Edition Size:  850
Availability:  Available
Year of Release:  2018
CLICK HERE for a complete overview of this artwork.
Every life story is the grand accumulation of the decisions we make along the way—a continuum of doors opening, doors closing, and taking one courageous step after another into the unknown.
Alexander Graham Bell wrote: "When one door closes, another opens; but we often look so long and so regretfully upon the closed door that we do not see the one which has opened for us."
Theodor Seuss Geisel, aka Dr. Seuss, seemingly knew this well, having a keen ability to spot opportunity and trust in its outcome, even when the uncertainty of traveling through a new door posed no guarantee of success or fulfillment. His life was full of such examples as he—and his characters with him—marched headlong through opening doors as others closed around him.
Dr. Seuss's The Great Cat Continuum seems poised as a powerful artistic expression of this grand adventure. Likely painted during the 1970s, enough time and life experiences had accumulated for Ted to step back and thoughtfully comment on the trajectory of his life. His iconic Cat (often cited as Seuss himself) is depicted navigating a set of floating doors or windows—twisted openings on a curving continuum of life. Metaphorically embracing each decision and walking into each new experience, the Cat navigates away from threatening clouds towards a clearing sky—there light begins to break as if to confirm that this winding journey was exactly as it should be for him, or for any of us.