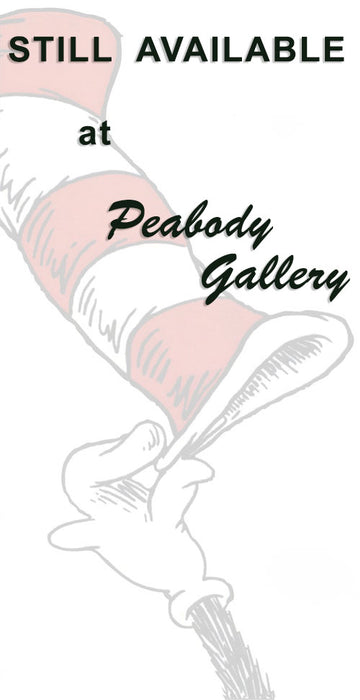 The Cat 60th Anniversary
Click to view image and pricing
Call 650-322-2200 for pricing
Dimensions: 29" x 25"
Medium: Giclee' on paper
Edition Size:  395
Availability:  Sold out at publisher but still available at Peabody Gallery.
Year of Release:  2017
Adapted posthumously from the illustration for the 1958 book, The Cat in the Hat Comes Back.
One of Dr. Seuss's most iconic characters, the Cat in the Hat, gives us the ultimate permission to tap into our childhood ambitions of unimpeded fun.  He effectively breaks down the paradigm of being an adult and allows us to be a child alongside our own children as we share his stories.  The Cat has played a starring role in multiple Dr. Seuss books and earned a coveted accolade as corporate logo for one of the most successful book publishing ventures in history, Random House's Beginner Books Division. 
For even more information about this artwork,
click here