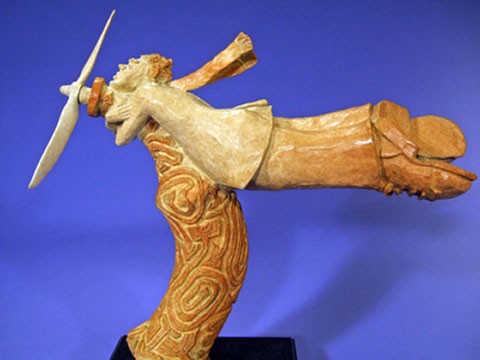 Taking Off (aka Flying High)
Original price
$3,600.00
-
Original price
$3,600.00
Dimensions:  15" h x 8" w x 17" d
Medium:  Bronze
Edition Size:  40
Availability:  Available
     Did you ever have an incredible bottle of wine that sent you soaring to new heights?  A wine so special that there's little you can do but hang on and enjoy the ride?!
     Beyond this immediate emotion, my hope is that this sculpture also captures the lifestyle that wine lovers often pursue.   It's chasing the dreams of an adventuresome and interesting life with the wind blowing through your hair.  "Taking Off" is dedicated to those exhilarating experiences that send you flying.
     "Taking Off" is the second sculpture that incorporates a curved bottle.  This approach allowed me to express the energy and movement that I was seeking.  The curved bottle also enabled me to engrave the bottle which I was excited to do.  It's like a painter discovering a new canvas.  After exploring many options, I fell in love with the arrow designs.  They remind us of finding our way.   But, as the arrows point in all different directions, finding your way, like life, is all about the journey rather than the destination.  The last touch on "Taking Off" was the scarf which creates the illusion of flying through the air.  Even if we can't fly in real life, at least we can imagine it with both our art and our wine.