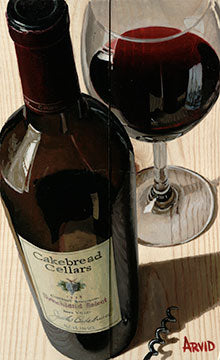 Slice of Napa
Original price
$2,790.00
-
Original price
$2,790.00
Dimensions:  22 1/2" x 13 1/2" x 4 1/2"
Medium:  giclee' on crate
Edition Size:  275
Availability:  Sold Out at publisher but available at Peabody Gallery
"Slice of Napa" represents the best of both worlds. One of the greatest joys of visiting Napa Valley is enjoying the first glass of a bottle you have been waiting to find. The best part of coming home is sharing with your friends the wine you discovered. Arvid eloquently articulates this association with the rich and delicate beauty of a favorite bottle set against the grainy texture of the crate.
For the last decade, Thomas Arvid has created stunningly realistic, larger-than-life oil paintings that capture a familiar and delicious subject- wine and the pleasure that it brings to our lives. A self-taught artist and self-proclaimed wine fanatic, Arvid depicts "the landscape between people drinking wine together." Inspired by the fabulous wines and the gracious living of Napa Valley, Arvid portrays a lifestyle where wine is both accessible and phenomenal.