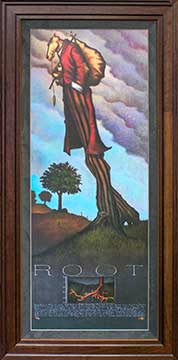 Root
Original price
$6,425.00
-
Original price
$8,250.00
Dimensions:  24" x 62 1/2", 36" x 90"
Medium:  giclee' on canvas
Edition Size:  25 regular small size, 5 artist proof small size, 5 special edition
Availability:  Sold out at publisher, but all still available at Peabody Gallery
Please contact us for information on framing this item
Never saw a piece of land that looked better than the one out on the horizon; never dwelled in a dwelling that felt like it should be mine; never had a lover whose mysteries were more compelling than the open road..... and then came you..... in this place.... on this land. Now the most likely thing has happened to this untamed, unreformed, unflinching, unapologetic, unstoppable wanderer; I stopped. I took root. I found the finest place on the finest land, and there within that place is you: the finest person I could ever find to spend my days with. Now my favorite journey is always the same: the one that leads me back home. I feel my heart beating stronger with each step toward the door, I see the warm glow of light through the windows, and as I take hold of the doors' handle, I know that love and laughter will follow. The root only grows stronger, and all is well in this peaceable kingdom.