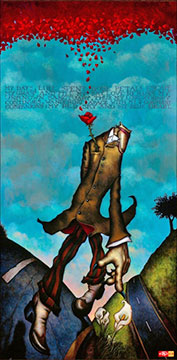 Red Sky, Blue Heart
Original price
$1,895.00
-
Original price
$1,895.00
Dimensions:  44" x 21"
Medium:  Serigraph on Canvas
Edition Size:  195
Availability:  Available
"My days, like spent rose petals, escape my grasp and fill my sky. Love remains my unknown sanctuary, thus my long journey continues, wandering apace with my 2 constant companions: My Red Sky and My Blue Heart."
Rose Petals rise up from his pocket, borne on some silky breeze then drift together to shape the red sky overhead enclosing the blue heart that has become his life. The vastness of the view reminds him of the days spent looking for her; the gentle wind whispers to him of love. In blind faith he will continue uncertain of what lies ahead, but searching ceaselessly nonetheless.