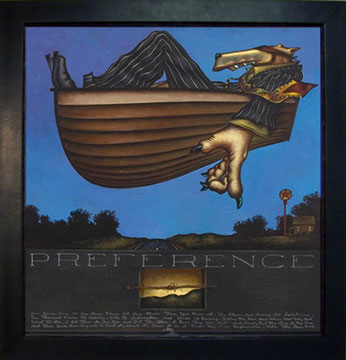 Preference
Original price
$11,750.00
-
Original price
$11,750.00
Dimensions:  25" x 24"
Medium:  Mixed Media on Board
Edition Size:  1
Availability:  Only available at Peabody Gallery
Words on painting:
Any Given Day At Any Given Place At Any Given Time, You Hear It - The Sturm And Drang Of Existence.
Ten Thousand Pieces Of Advice, Bits Of Information And Words. Of Warning, Telling Me How And Where And Why And What To Do. I Let Them In One Ear And Out The Other.  I Know They Are Well - Intentioned, But My Day Is My Own And Their Words Seem Desperate To Limit It, Shrink It, Fence It In. I Prefer My Days Experience, Like The Open Road.