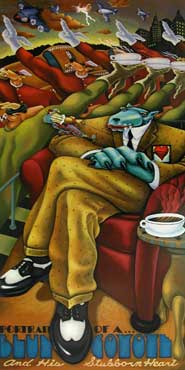 Portrait of a Blue Coyote
Original price
$1,695.00
-
Original price
$1,695.00
Dimensions:  22 1/2" x 45 3/4"
Medium:  Serigraph on Paper
Edition Size:  325
Availability:  Available
"... a love that is flawless and shines ..."
Pierson's blue coyotes are those that have experienced a heart broken - and at that tragic moment when it was the most painful, their skin actually turned blue. In "Portrait of a Blue Coyote" notice that he is wearing his blue skin as a badge of honor for having gone through the experience and will love again. This composition draws upon the complex design elements found in the Art Deco posters of the 20's and 30's and creates layers of the triumphs and struggles of everyday lives.