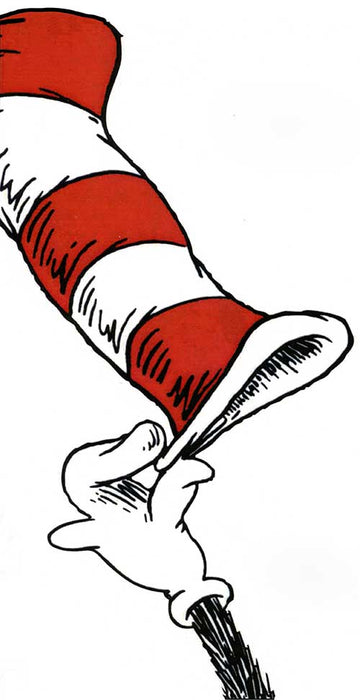 Minor-Cat Miner in a High-Yield Emerald Mine
Click to view image and pricing
Call 650-322-2200 for pricing
Dimensions:  36" x 27"
Medium: Giclee' on canvas
Edition Size:  850
Availability:  Available
Year of Release:  2019
CLICK HERE for a complete overview of this artwork.
Ted Geisel's (aka Dr. Seuss) Secret Art paintings were created for his own enjoyment in the solitary confines of his studio. Their creation was devoid of deadlines, editors, publishers, and the cast of hundreds involved in bringing one of his books to life. These endeavors were personal and, as such, their meaning often seems a more private reflection of Ted's own life. 
Mining the Best Ideas
Ted proclaimed himself to be "The Cat Behind the Hat" in most of his paintings. Here, his Minor-Cat Miner is discovered chipping away at the riches of this high-yield emerald mine. When viewed through a more personal lens, this painting can be seen as a powerful visual metaphor for Ted's lifelong ambition. From his early days as an editorial cartoonist to his later decades as the world's most renowned children's book author, Ted continued to "mine" the riches of his mind for the best ideas. He was constantly chipping away at his concepts, searching for the jewel that would propel his ideas forward. He never tired of this process. Ted worked diligently on every personal and professional project with the same steadfast dedication, never accepting an idea at face value, but rather digging through the recesses of his mind to discover the essence that would make his concepts shine.
In this light, Ted's Minor-Cat Miner in a High-Yield Emerald Mine is not only a self-portrait of Ted himself, but also an iconic artwork for those of us willing to dig deep to discover the best we can offer in our own lives.