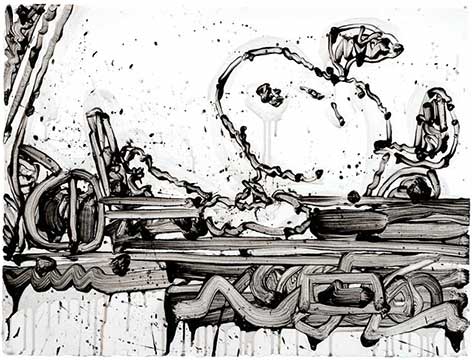 Maxi Taxi
Original price
$2,250.00
-
Original price
$2,250.00
Dimensions:  25" x 33 1/2"
Medium:  Mixed Media Print on Deckeled Edge Paper
Edition Size:  95
Availability:  Available
Year Released:  2015
"It wasn't the storyline of Sparky's work that first caught my eyes, it was the line." This is how I usually explain my initial attraction to the art of Charles M. Schulz.
When I had placed a Xeroxed copy of one of Sparky's drawings into my painting studio's projector, shortly before meeting him, the over-sized projection of his line-work looked like large rhythmic painterly brushstrokes. For me as a painter, they referenced the painterly lines of abstract expressionist artist like Franz Kline and DeKooning, even as far back into the art world as in the drawings of Van Gogh. This was a very new way of feeling and seeing line.
Shortly after our introduction, we sat in his studio drawing lines in sets of three identical lines. He was demonstrating that no lines, in each set of three looked the same. That the eye sees and thinks about each line in a new way. This concept of seeing the same thing in a new way became the foundation for the twenty-six years of my visual articulation ultimately influenced by the strategies of process in his line-work.
"Maxi Taxi" is a work dedicated visually to that moment of introduction and continued influence of his line construction. The black painterly brush stroke marks refer to a new way of thinking about Sparky's pen line created by his 914 R. Esterbrook pen point held by a R. Esterbrook pen staff on Strathmore 3-ply high surface Bristol paper.
While traveling with close friends, I was fascinated by their young one year olds perfect and natural driving posture while playing in her toy car. Her arm was comfortably draped over the car door and her hand was firmly placed on the steering wheel like a veteran taxi driver. It became the perfect vehicle for the dedication and celebration of Sparky's line. Her name is Maxi, short for Maxwell.
– Tom Everhart
"A cartoonist is someone who has to draw the same thing every day without repeating himself."
"The good cartoonist looks at the same thing as everybody else and then produces a drawing of something nobody else saw."
– Charles M. Schulz