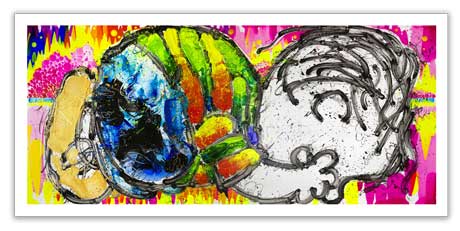 Make It Stop
Original price
$1,250.00
-
Original price
$10,000.00
Dimensions:  18" x 41" regular edition, 13" x 29.5" parlor edition, 26" x 56" exhibition edition
Medium:  Mixed Media Print on Deckeled Edge Paper
Edition Size:  50 each in regular and parlor editions, 9 in exhibition size
Availability:  Available
Year of Release:  2019
Having Everhart's paintings being chosen by a museum for their walls is always exciting but this particular museum show stands alone as something special. And we wanted to share it with you.

Last year, the world watched as the community of Thousand Oaks was twice shaken by tragedies. First, a deadly mass shooting at a neighborhood nightclub and then as they endured days of devastating fires that sent people running from their homes.

Now a year later CMATO has taken an important role in the communities' healing through an artistic dialog they entitled "Empathy: Beneath the Surface". In the center of the carefully curated collection of work that explores the theme, a three panel 84" x 192" painting by Tom Everhart titled Make It Stop stands in the center.