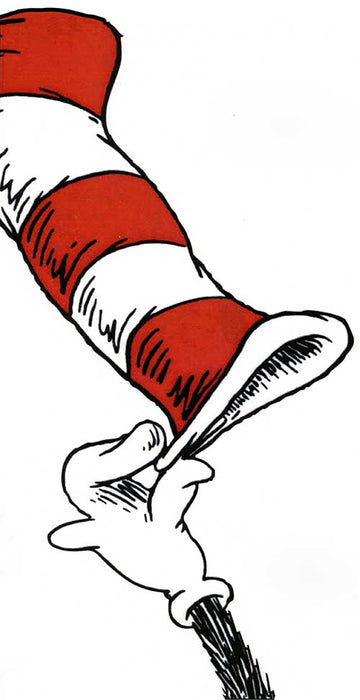 Love and Music
Click to view image and pricing
Call 650-322-2200 for pricing
Dimensions:  36" x 28 1/4"
Medium: Giclee' on canvas
Edition Size:  850
Availability:  Available
Year of Release:  2019
CLICK HERE for a complete overview of this artwork.
LOVE . . .
Ted Geisel, aka Dr. Seuss, was a beloved child. Both parents encouraged him, realizing early the strength of his artistic talents. His mother cheerfully allowed him to draw on the upstairs bedroom walls between wallpaperings. His dad took him to the Forest Park Zoo on Sundays—Ted always with a sketchpad and pencil in hand.
Because of his great start in life, whatever Ted did, he did with fervor and resolve. He modeled for those around him what it meant to be loving and loved. He did so within his family of origin and later with his wife, Audrey, and her children Lark and Leagrey. Ted was also a great father-figure and artistic influence in the life of his grandnephew and namesake, Ted Owens. Together they created abstract artworks that were theirs alone. They were not only family, they were friends.
. . . AND MUSIC
Many writers often start out as avid readers. Ted was an avid reader who struggled through weekly piano lessons to be able to "win" the book of his choice at Johnson's Book Store. This was a bargain he struck with his mother who, a pianist herself, believed in the power of music to enrich one's life. If Ted did well, he was allowed to choose a book after class. These efforts paid off and in high school Ted learned to play both the mandolin and the banjo. Not only did he organize the Mandolin Club, his yearbook reported that he gave mandolin and banjo performances at class assemblies.
It is no surprise then that Ted would incorporate musical instruments into many of his artworks, from Secret Art and Archive paintings to images from his most iconic children's books.
THE INSPIRATION FOR LOVE AND MUSIC
In 1957, Random House named Ada Vine as Production Manager of the newly formed Beginner Books division, which Ted oversaw. The Cat in the Hat was their first project together, followed in 1960 by the blockbuster Green Eggs and Ham. Ada would work alongside Dr. Seuss for the next 20 years.
On the occasion of her retirement in 1977, Ted painted Love and Music as a seemingly self-satirizing homage to their many years spent together. Here we see Ted in a confluence of iconic characters from those two early projects with Ada, The Cat in the Hat and Sam-I-am's famous antagonist from Green Eggs and Ham. Love and Music was presented to Ada Vine at her retirement party.