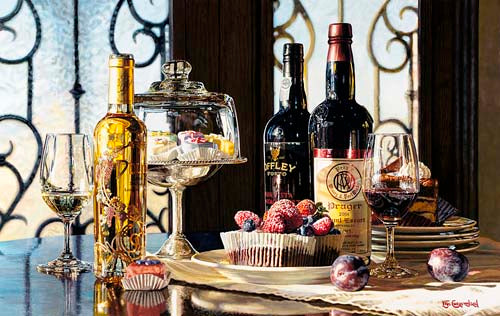 La Dolce Vita
Original price
$1,440.00
-
Original price
$1,760.00
Dimensions:  24" x 36", 28" x 42"
Medium:  giclee' on canvas
Edition Size:  125 small, 75 medium
Availability:  Available
We've all heard about "the Sweet Life" - and now we know what it looks like! In "La Dolce Vita" you find yourself seated at a bistro table in front of a fanciful, wrought iron window with shimmering leaded glass. The scrolls of the ironwork are echoed in the Art Nouveau design on the label of the dessert wine. The bottles of port wine stand guard, awaiting their turn. If you were to open the window, only your imagination can envision the backdrop that will unfold behind the sweet treasures that await your palate: fresh berries under a blanket of powdered sugar, pastel petit fours elegantly presented under glass, and a delightful dollop of freshly whipped cream perched atop a generous slice of decadent deep dark chocolate cake. Is there anything sweeter than "La Dolce Vita"?