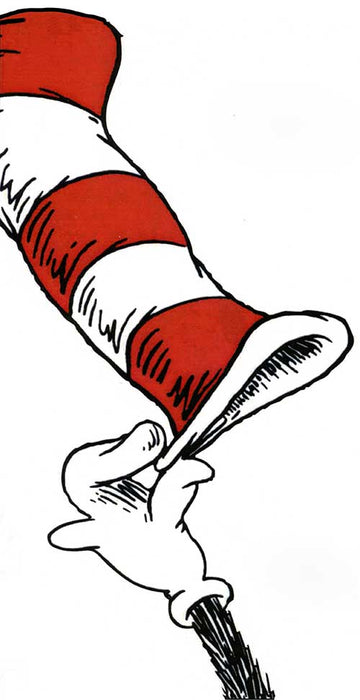 Knox in Box. Fox in Socks
Click to view image and pricing
Call 650-322-2200 for pricing
Dimensions: Single image size: 14" x 11", diptych image size 14" x 23"
Medium: Giclee' on paper
Edition Size:  2500 single, 850 diptych
Availability:  Available
Year of Release:  2021
CLICK HERE for a complete overview of this artwork.
SLY AS A FOX
Sly as a fox. The phrase immediately conjures up an image of a clever person
who knows exactly what they are doing, no matter how outrageous it may appear.
Theodor Seuss Geisel (aka Dr. Seuss), with his 1965 Fox and Socks, shows that he may be the cleverest fox of all, encouraging us down a path of tongue twisters and silliness that tests even the most patient readers. Much like the book's "Knox" character, we are sent on a surreal adventure of language and imagination. Most of us try, yet fail to make it through, at least the first time.  
Dr. Seuss even warns us at the beginning of the book, "Take it Slowly, This book is dangerous."
However, what becomes clear is that the real danger is not in trying, but that when we fail, not trying again. Ted knew this all too well, understanding that we fall short more times than we succeed.
The outrageous words and surreal images of Fox in Socks bring us to a greater understanding of Dr. Seuss. He always leaves us laughing – therein lies his genius, making him the slyest fox of all.
This iconic image appears in the second spread of the book and is particularly noteworthy when one sees how the image changes in tone from the concept drawing to the final book drawing.
In the concept drawing, Ted has the two figures somewhat at odds, with the Fox having a certain swagger as he walks away with his backside facing Knox, his head held high and his eyes closed. The two seem uninterested in connecting with each other.  
However, Ted changes this in the final drawing, positioning the Fox next to the box with a proud smile. The Fox has succeeded in getting Knox through one of the first challenges and enticed him to continue along on the journey by making this early challenge fun. This change in dynamic allows the two characters to be in relationship with one another from the beginning. 
Despite losing his patience many times later in the book, Knox ultimately does not give up on the Fox's game and instead triumphs at the end by making it his own. In a subtle nod to the sly fox's lesson, Knox ends the book with the phrase, "Thank you for a lot of fun sir!"