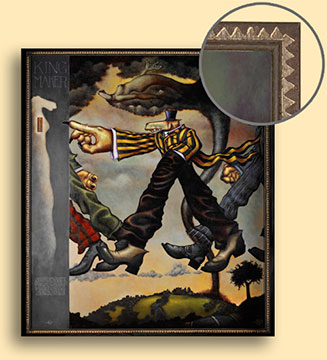 Kingmaker
Original price
$6,143.00
-
Original price
$6,143.00
Dimensions:  36 3/4" x 30 3/4"
Medium:  Mixed Media on Board
Edition Size:  55
Availability:  Sold out at publisher but still available at Peabody Gallery
"Lucky me - I wear the crown ..."
For those who understand the power of the right woman behind her man, Markus offers the King Maker. 'What would I be without you' and 'How lucky am I' are the questions posed by the artist in this amazing piece.
As a member of the unique Mixed Media Series, the "King Maker" is created through the fidelity of five artistic disciplines in order to achieve the lush surfaces and dimensional components of the work. Included are silkscreen printmaking, digital printmaking, hand-painting, cast resin sculpture and fine carpentry.
Through Markus's own words, the story is written on painting as follows:
"A sea of admiring eyes, a river of flowering words spoken by would-be suitors, the burden of too much choice – this she must bear. If she had never laid eyes on me her life would still have been rich, for she was born a King Maker. Difficult to impress, disdainful of false praise or modesty, so keenly aware of the heights I could reach if I truly set my mind to it. She is both the storm and the shelter from it, the sentencing judge and the 'get out of jail free' card, a stiff kick on my backside and a comforting smile of understanding. A life all on her own or with some other fella would be full and proud, but lucky me – I hold the key, I wear the crown."