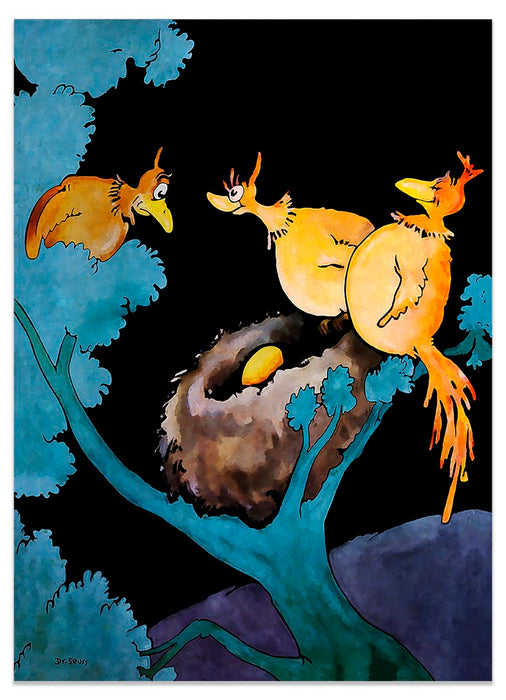 It's Our First...Don't You Think It Looks Like George
Click to view image and pricing
Call 650-322-2200 for pricing
Dimensions: 36" x 26"
Medium: Giclee' on canvas
Edition Size:  850
Availability:  Available
Year of Release:  2023
In this work, Ted Geisel has wrapped his Seussian wit and humor around an instantly relatable and timeless message - no matter how old you are, at one point in your life, you have been told you look like your mother, father, aunt…or George!
Family and heritage are familiar themes throughout Dr. Seuss's work.
Whether a proud parent, an expecting couple, a son or a daughter, we all come from somewhere and our family shapes who we are or who we want to become.  The pride and joy associated with our own family, or the new roots we may plant, are celebrated here with a nod and a wink from the good doctor.
"How wonderful to have a Family Tree that makes you want to proudly puff out your feathers!
The Rare and Unlikely Origin of "Looks Like George"
This remarkable work was originally conceived in a series of paintings completed for the Thomas D. Murphy Calendar Company. Although Murphy's owners were not the first to approach Dr. Seuss in the 1930s to commission artwork for a calendar (a mainstay of pop culture at the time), they were the only people successful in getting him to produce twenty-four artworks to be used in promotional calendars between 1935 and 1941.