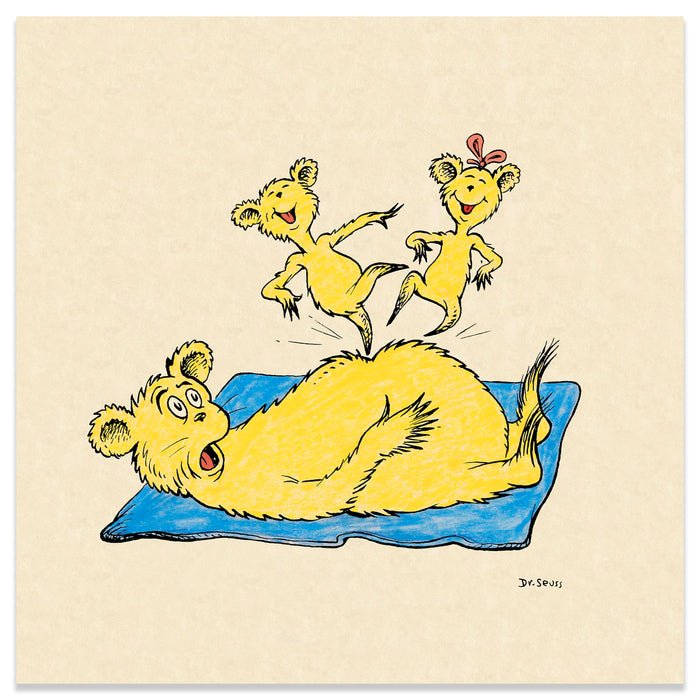 Hop on Pop 60th Anniversary
Click to view image and pricing
Call 650-322-2200 for pricing
Dimensions: 29" x 29"
Medium: Giclee' on canvas
Edition Size:  395
Availability:  Available
Year of Release:  2023
Don't We All Want to be a Kid at Heart?
Ted Geisel, aka Dr. Seuss, was a master at encouraging us to let our guard down so that we may laugh and express ourselves in a way that has no boundaries, expectations or judgement.  No matter our age, we can recall the pure joy of being a kid at heart.
 Here, in Ted's final-stage concept drawing, he celebrates what it means to connect with such moments.  We can feel the excitement and hear the laughter in the simple pen and ink lines and bold strokes of color that spread across this iconic image.
In this revered book, Hop On Pop, Ted Geisel shows us just how important connection and engagement can be in our most coveted relationships.  This insight was so significant that Ted used the Hop on Pop image as the cover of his famous book.  He seemed to understand the impact on his life and wanted it to affect others.
The Geisels' enjoyed a warm and loving family where there was much interaction and engagement between them. His mother would encourage singing and musical evenings around the piano and his parents encouraged his artistic development. 
At an early age, his mother (the daughter of a German baker) would chant pie names as Ted fell asleep. From this he developed a profound love for the cadence of poetry. Ted, in fact, credited his mother for being responsible "for the rhythms in which I write and the urgency with which I do it."