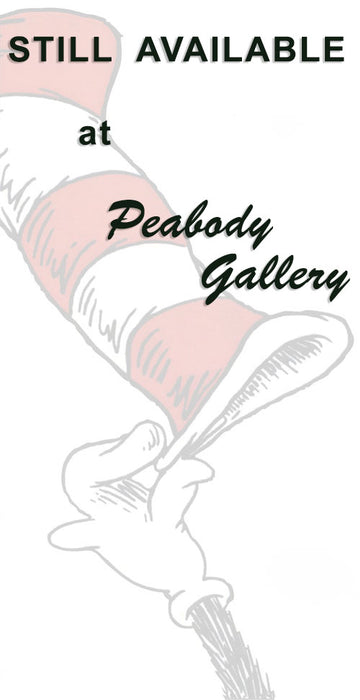 Green Cat In an Uleaborg Finland Subway
Call 650-322-2200 for pricing
Dimensions: 36" x 28"
Medium: Giclee' on canvas
Edition Size:  850
Availability:  Sold out at publisher but still available at Peabody Gallery
Year of Release:  2015
Adapted posthumously from the circa 1964 original acrylic on illustration board and wood frame painting by Theodor Seuss Geisel

Green Cat in Uleåborg Finland Subway joins an acclaimed group of Secret Cats from Ted Geisel's extraordinarily personal collection of midnight paintings.  Cats have taken center stage as a recurring theme in many of Ted's most important and most sought-after artworks.  Like a window into his soul, these works provide a behind-the-scenes look at Seuss the man and the artist.  Some cats appear as bold portraits, while in the case of these works, the mostly hidden cats take supporting roles that cleverly punctuate or decode Dr. Seuss as the creator of these images.  Ted's Secret Cats are the ultimate expression of his personality, humor, and artistic inventiveness secreted within his most personal creations.

Ted Geisel himself said that, because of its draftsmanship, Green Cat in Uleåborg Finland Subway was as close as he came to "serious painting."  Throughout his career, he was known to draw inspiration from disparate cultural, literary or artistic influences.  In 1964 when Green Cat in Uleåborg Finland Subway was created, "serious painting" included the genre of American modernism. 

For even more information about this artwork, click here.