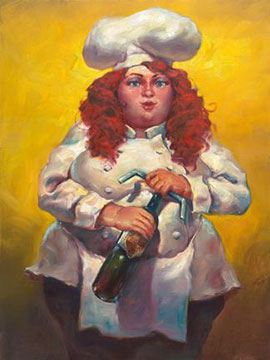 Goes Well with Red
Original price
$350.00
-
Original price
$1,200.00
Dimensions:  10" x 15", 30" x 40"
Medium:  embellished giclee' on canvas
Edition Size:  88 small, 28 large
Availability:  Available
"Painter of Chefs" Christopher M. has an eye for character. His work has taken him to a variety of great kitchens, behind the scenes of some of the most dynamic and critically acclaimed restaurants, and it is there where he finds his inspiration. Behind every carefully constructed dish resides a creator, and it is in his two most recent masterpieces, It's All In The Sauce and Goes Well With Red, that he depicts the genius that makes fine dining a reality.

It's All In The Sauce portrays the chef about to taste his latest culinary inspiration, holding the tasting spoon up to his lips to cool the steaming creation. The chef 's mustachioed face is full of anticipation, his eyes are half closed in concentration and contentment. He is the master of his craft and takes pride in the fruits of his labor. All of the viewer's attention rests upon the chef as the artist's layers of vibrant oil paint and thick brushstrokes swivel to create a spotlight effect around his robust figure. All in one moment, the chef ensures that his only concern is the perfection in his creation, for, after all, It's All in the Sauce.

Goes Well With Red, as an accompaniment to It's All In The Sauce, mirrors its counterpart in composition and color, yet stands alone as its own unique vignette. Her bright blue eyes and rosy cheeks shine in the heat of the busy kitchen. She opens a fine bottle of wine, red, to match her fiery hair; gazing out beyond the canvas into the busy clatter of her kitchen.

It's All In The Sauce and Goes Well With Red continue to solidify Christopher M.'s title as the "Painter of Chefs". He remains an expert of his craft and, more importantly, is as an expert in how he observes and captures the essence of special characters on his canvas.