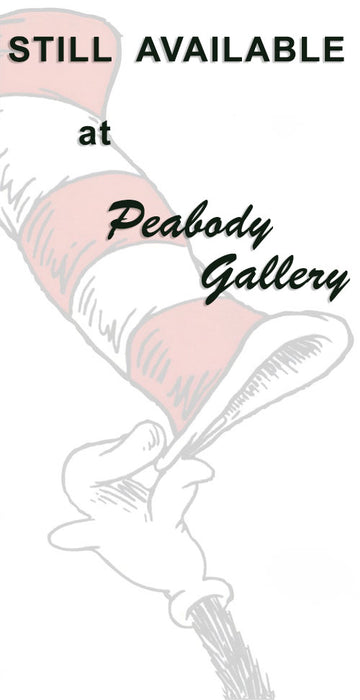 Fox in Socks 50th Anniversary
Call 650-322-2200 for pricing
Dimensions:  55" x 26"
Medium: Serigraph on Paper
Edition Size:  295
Availability:  Sold out at publisher but still available at Peabody Gallery
Year of Release:  2015
Adapted posthumously from the illustration for the 1965 book, Fox in Socks.

CLICK HERE for a complete overview of these artworks.

For fifty years the flyleaf of Fox in Socks—Dr. Seuss's 1965 charmer—has warned: "Take it slowly. This Book is Dangerous!" This wonderfully colorful Seussian tongue-twister was designed to help children get their mouths around language. That it certainly did!

From Random House's "I Can Read It All By Myself Beginner Books Series," Ted's story features two main characters, an anthropomorphic "Fox" and "Knox," who speak almost entirely in densely rhyming tongue-twisters. After introducing Fox and Knox, as well as props, box and socks, Dr. Seuss takes these four rhyming items through several permutations, adding more items as he goes along. This prompts Knox to complain every so often about the difficulty of the tongue-twisters.