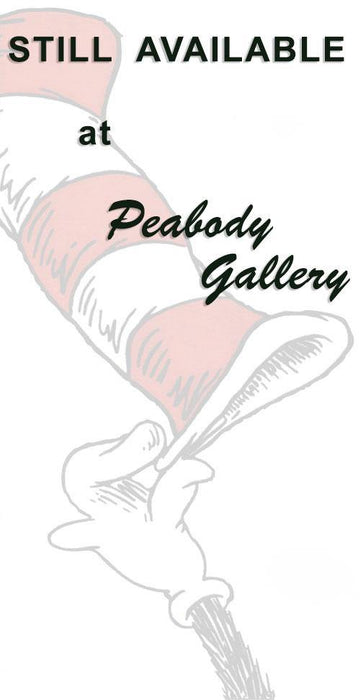 Earth Friendly Lorax
Call 650-322-2200 for pricing
Dimensions:  46" x 19"
Medium: Serigraph on Paper
Edition Size:  250 each color
Availability:  Sold out at publisher but still available at Peabody Gallery
Year of Release:  2008
Adapted posthumously from the illustration for the 1972 book, The Lorax.
Four color adaptations:  Lavender, Orange, Salmon and Yellow

Dr. Seuss considered The Lorax his favorite book. His volume stands as a lasting tribute to those who speak up for the environment, and to the numerous personal, corporate, and societal strides being made to safeguard our natural world. Shortly before his death in 1991, Ted was asked if there was anything left unsaid. He pondered the question and finally responded, "The best slogan I can think of to leave with the U.S.A. would be: 'We can . . . and we've got to . . . do better than this.'"

The paper used for each Earth Friendly Lorax serigraph is created at mills meeting four key factors for environmental responsibility.
Tree-Free
Chlorine-Free
Mills are Certified to Meet Environmental Standards
Use of Alternative Energy
Additionally, each serigraph is printed using water-based inks. Water-based inks have the permanence and brilliance of oil based inks, without the use of petroleum.