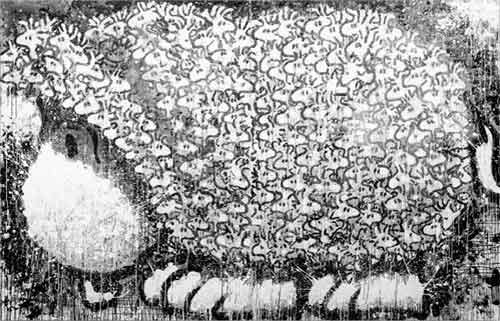 Does This Make Me Look Fat?
Original price
$1,850.00
-
Original price
$1,850.00
Dimensions:  42" x 27"
Medium:  Mixed Media Print on Canvas
Edition Size:  295
Availability:  Available
Year Released:  2013
"Woodstock was the essence of Sparky's poetry, and it was his favorite thing to draw," Everhart explains. "Sparky felt his drawings of Woodstock communicated for him best." It was partly his attachment to Woodstock that excited him about Everhart's idea to take on such a challenge.
Schulz thought the idea was radical. "And it was," Everhart adds. But this was the whole thinking behind Everhart's pursuit, and Schulz' vision for him to carry forth his creations into an entirely new context of fine art expression. That it would be, as Everhart calls it, "doing the same thing, but entirely different."
That difference sometimes goes far beyond the stylistic choices. Often, the greater difference is in the things Everhart has chosen to express. At times, these are the big and tough issues. By expressing them through Peanuts, Everhart has been able to speak to these heaviest of subjects through the same prism of light-hearted humor that Sparky once used – even with issues as daunting as the world's growing population.
In this piece (Does This Make Me Look Fat), Everhart has created one of his best examples of this approach. It speaks to the very nature of his own heart and artistic perspective. At first sight of Snoopy wearing a sweater of Woodstocks (a nod to a sweater that Peppermint Patty once knitted for him in the comic strip) we can't stop ourselves from smiling or even laughing out loud. Then, still with that grin on our face, he draws us in a bit further, and we see Snoopy's face. It's familiar. We may not know the whole story, but we can see that there is more to this – something important, something real – and we connect. And then, in a way that only Everhart could pull off, he encourages us to once again smile, but this time it's with the kind of smile that comes from a deeper, meaningful place. The kind of smile lasts forever