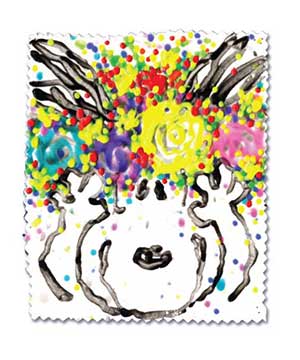 Tahitian Hipster - #5
Original price
$350.00
-
Original price
$350.00
Dimensions:  8" x 10"
Medium:  Mixed Media Print on Deckled Edge Paper
Edition Size:  295
Availability:  Framed or Unframed
Year of Release:  2017
My studio in Venice faces out to a neighborhood involved in an evolution of rapid visual change. Accompanying this change is a new sense of contemporary commercial fashion and style supported on the street by the constant new flow of very styled 'Hipsters'. From my studio second floor balcony, the 'Hipster' person is new, different, and fun to watch. Although, to some of the original residents this new visual is met with some discomfort. Mostly, because it didn't fit their idea about life 'style'.
 This new discomfort reminded me of a thinking about making art that most of my friends agreed upon when were all just starting as artist in New York in the early 1980's. It was the sense that discomfort enables us to see forward and therefore discomfort was necessary in our art in order to create the new art of the future.
Most likely, we were uncomfortable, ourselves, with the art (conceptualism and minimalism) that came immediately before us and we mischievously set out to tease the end of its reign. Many were using racial, inequality and sexual themes, and even the retired art of portraiture as a vehicle for the discomfort. Since my body of work came out during a severe illness, I was very fortunate that my theme was based on historic humor.
It was absolutely Sparky's drawing line constructions that first excited me and influenced the last 26 years of my work. But, it was also the sense that doing an entire body of work visually based on only one very successful cartoon's imagery was brand-new work. And, that it would be uncomfortable with most art professionals because it didn't necessarily fit their idea about museum painting. It may have been the undertow of my work.
 The 30 'Tahitian Hipster' paintings were produced in Tahiti on my dream-like open-air studio deck that sits 6 feet above a shallow lagoon 100 yards off shore. So the work had to be visually about the Tahitian Hipster.
 The most obvious common denominator in Hipster style seems to be contemporary headwear. Of course there are many contemporary Tahitians, but Tahitian headwear is predominately deeply rooted in centuries of tradition and history. The materials and designs of this headwear are amongst the most beautiful works of art.
The only discomfort in the Tahitian studio is losing the paint (mixed with lagoon water) from the painting tool to the strong tradewinds as it makes its way to the surface of the paper. But, in looking forward, I discovered restaurant style squeeze bottles that apply the paint directly to the surface. This explains the almost island reptile-like surface on all the works produced on this heavyweight paper.
 I could explain more, but its time to return to my comfortable studio balcony. There may be a hipster going by.

– Tom Everhart