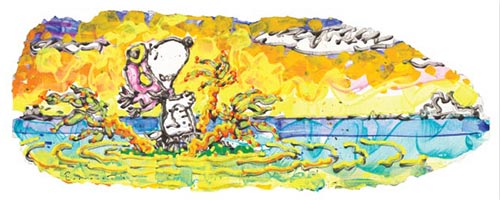 Motu Homies Series - The 6:45 to Bora
Original price
$2,300.00
-
Original price
$2,300.00
Dimensions:  15" x 36"
Medium:  Mixed Media Print on Deckeled Edge Paper
Edition Size:  75
Availability:  Sold out at publisher but still available at Peabody Gallery
Year of Release:  2014
In 2006, six years after first arriving in French Polynesia a small tree honoring the occasion of my marriage was planted on our "motu" (Tahitian word for island) at the waters edge next to the pier that overwater bungalow studio sits on. As a souvenir I have been using the leaf from the tree as a canvas to create a mission landscape upon for those "homies" that I have met along the way.
The concept to produce a portfolio of prints was inspired by a large group of banana tree leaves that waved into my balcony from the Gardens of a Hollywood hotel Bungalow during my stay for a wedding. The leaves, although of a much larger scale than the little motu tree leaves were of the same design.
In producing the prints, just as in producing the art on the tree's leaf, the vascular vein of the leaf dividing it down the center, is positioned on the horizontal and always supports each works visual articulation of the horizon line. The heavy rag paper for each work is torn into the motif and scale of the banana leaf. The formulation of color used is not the actual color seen in Tahiti, but instead, the colors that one feels.
The visual subject matter in each work centers on a tiny motu we refer to as "motu 3", that is always visible from our bungalow studios deck. The character of Snoopy is incorporated to emphasize the incredible small scale unspoiled and untouched quality of this motu, not quite big enough for even a dog.
Each print in the portfolio of "Motu Homies" represent a souvenir from a day in the life of the blank bungalow studio deck.
– Tom Everhart