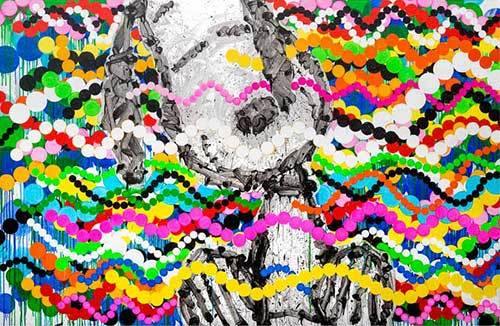 Big Poppa
Original price
$1,850.00
-
Original price
$1,850.00
Dimensions:  26" x 40"
Medium:  Mixed Media Print on Deckeled Edge Paper
Edition Size:  295
Availability:  Available
Year Released:  2013
Tom Everhart Big Poppa from Limelight Agency on Vimeo.
Like most of Everhart's paintings, Big Poppa is the result of many layers of thought and inspiration, beginning with Einstein's crystalized observation that creativity, inspiration, and even genius, comes from the moments when you step away from your "work" and let your mind relax and wander. We see this very thing happening in this painting, as Snoopy has started to drift to the side and enter into his own state of relaxation.
For Everhart, time for creative meditation is set aside every day. Before he dives deep into hours on end of painting in his Venice studio, he heads out to the beach on his bike to ride along the shoreline path.
Often, on those rides, he watches birds flying above the sea in rows that wave up and down in the air as they move along the coast. This significant inspiration made it's way into Big Poppa as rolling waves of colored dots flowing around Snoopy. To Tom, these waves -- in the air with the birds, the winding bike path, and in this painting -- represent rhythm. They are the rhythms of life, the rhythms of caring, the rhythms of love, and the rhythms of pain: "all the things that flow around us as we are living," Everhart explains.
Back in the studio from the beach, the work begins -- and inspiration continues. While painting the works in this collection, his studio was filled with music. Most often he selected songs by Notorious B.I.G. [aka Biggie Smalls] whose song Big Poppa spoke to him profoundly. In the year that Tom painted the large body of work in this coming show, many of his friends became poppas. It was also a year in which Everhart gave a lot of thought to those who inspired him, shaped his life, and filled his world. And so, this painting is dedicated to Albert Einstein and Sparky (Charles Schulz), the 'Big Poppas' in Tom's life.