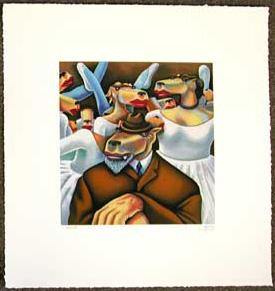 Art History Suite - Portrait of Degas
Original price
$395.00
-
Original price
$495.00
Dimensions:  10" x 10"
Medium:  Serigraph on paper or canvas
Edition Size:  175 paper, 175 canvas
Availability:  Available
A self-taught artist, Pierson embarked on an intellectual journey to study the masters of painting and sculpture. To appreciate the styles employed by each artist, Pierson took his muse, the coyote, and recreated the great masterworks of history.
Van Gogh and Degas are described as Impressionists with a fresh, new focus on light and color. Degas was brilliant at capturing spontaneous energy.
Want to learn more about each artist in a fun and entertaining way? Read Markus' book, "But I Digress".