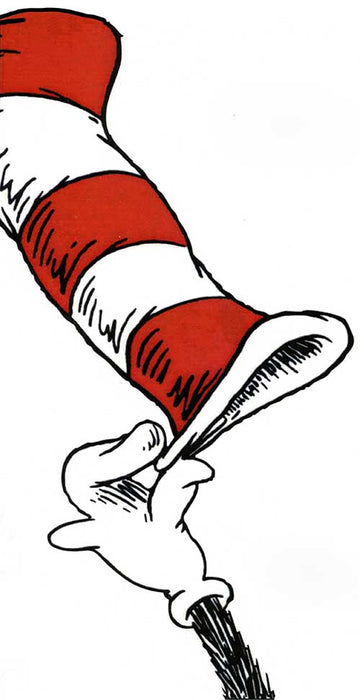 Antlered Animal Adoring Pink Tufted Small Beast
Click to view image and pricing
Call 650-322-2200 for pricing
Dimensions: 36" x 25" 
Medium: Giclee' on canvas
Edition Size:  850
Availability:  Available
Year of Release:  2020
THE THRILL OF POSSIBILITIES
If you have ever fallen in love, you understand the thrill surrounding the early moments of any romantic relationship. The anticipation and excitement of romance swirls in the air and sends those involved eagerly into the intimate ritual of courtship.
Ted Geisel, aka Dr. Seuss, lays bare those very moments in this lush, surreal painting from the 1930's. Mystery abounds as his Antlered Animal cautiously approaches the Pink Tufted Small Beast with an earnest eye and wide smile. The Small Beast, filled with the same anticipation, is perched atop an impossibly precarious tower, further alluding to the excitement that fuels such moments.
THE MYSTERY OF COURTSHIP
EMBEDDED IN ARCHITECTURE
In ingenious Seuss fashion, Ted's tireless dedication to his curvy and dippy architecture (which would become his signature) reveals something even more about the mystery of courtship. When one closely examines his fluid structures, we begin to see echoes of question marks not only in the tower on which the Small Beast sits, but also in the posture and position of the Small Beast herself. Rotate the painting 180 degrees and the same echoes appear in the surrounding structures. Whether intentional or not, these artistic elements seem to further wrap this courtship in the intoxicating allure we all experience when dipping an antler or tuft into the sea of romance. 
A COURTSHIP IN THREE ACTS
ACT ONE
Like a movie in which the film begins with the end of the story, Ted approaches Antlered Animal Adoring Pink-Tufted Small Beast in the same way. This particular courtship would unfold in two other highly coveted works painted after the original.
Antlered Animal, the first of the three paintings, was created in 1932 and is the moment these two Seussian creatures connect.

ACT TWO
However, years later Ted brings us back to the beginning of this relationship in his painting The Stag at Eve, It is in that work where we meet the Antlered Animal on his own, watching him head out "stag" to the watering hole (aka the bar) in anticipation of all life has to offer.
ACT THREE
Around the same time, Ted also paints Pink-Tufted Small Beast in a Night Landscape where we encounter the lone small beast looking out over a vast landscape, also seemingly contemplating the thrill of life's possibilities.
We already know the ending of this story, as we watch the two court each other in the original painting, Antlered Animal Adoring Pink Tufted Small Beast.
Adapted posthumously from an original painting by Theodor Seuss Geisel ("Dr. Seuss") circa 1935.