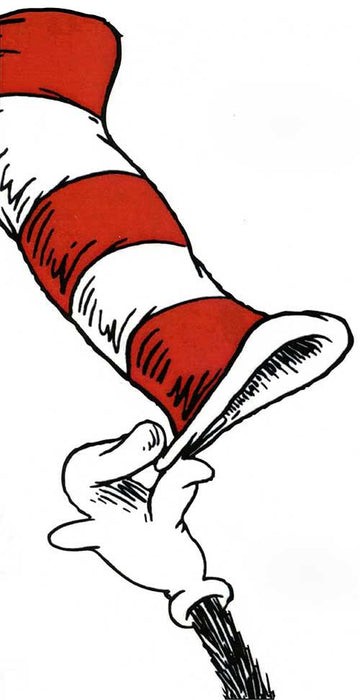 And Then Who Should Come Up But the CAT IN THE HAT!
Click to view image and pricing
Call 650-322-2200 for pricing
Dimensions:  14" x 20 3/4"
Medium: Giclee' on paper
Edition Size:  1500
Availability:  Available
Year of Release:  2020
CLICK HERE for a complete overview of this artwork.
The enduring legacy of The Cat may lie in this simple idea:  Rather than creating children's books based upon following the rules, Ted Geisel (aka Dr. Seuss) flipped that premise with The Cat to create books that encouraged questioning the rules. Ted seemed to understand that the act of finding-your-voice is where innovation and inspiration are born. His Cat suggests this cannot be uncovered simply by following the status quo, but instead lies in the anticipation of what might be if we stop and question the world around us.
That anticipation is on full view in this pivotal image from Ted's sequel, The Cat in the Hat Comes Back.  Just as the rules are about to be broken (again) and the mayhem re-ignited, he reminds us to listen to our own voice and follow it as we prepare for our next journey with the Cat!
CONCEPT DRAWINGS
Ted Geisel (aka Dr. Seuss) drew each page for every Dr. Seuss book he wrote. What many people don't realize is that for each final-line drawing, he would create multiple concept drawings leading up to the final published image. The images would be tirelessly refined, along with the text for each page, with subtle adjustments made to characters and nuanced shifts to the writing.
In the work done for The Cat in the Hat Comes Back, Ted did something rarely found in his early-stage concept drawings. Here he combines pen and ink with colored pencil, crayon, and a watercolor wash to create the background. The resulting image takes on a unique, painterly quality rarely found in the development phase of his other children's books.