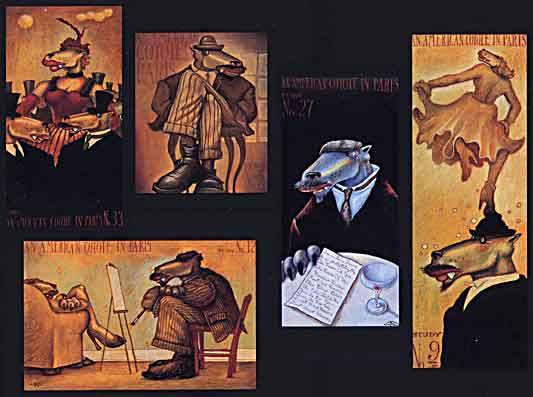 American Coyote in Paris
Original price
$995.00
-
Original price
$995.00
Dimensions:  16" x 12"
Medium:  lithograph on paper
Edition Size:  195
Availability:  Available
An "American in Paris" - that's what I'll be! With a tattered and worn satchel full of art supplies the coyote enters Paris, the City of Lights, confident Paris would be thankful to have the gifted American artist in her bosom. No one ever told him the museums and galleries were already full of geniuses. Too poor to go home - too stubborn to quit, the coyote found his voice. He came to Paris hoping the city would be his guide, his patron, or his lover - at most Paris was to be his artistic inspiration and now that seemed enough. Captured in five studies, you see the evidence of the inspirations and a new heartbreak for the blue coyote who penned the following verse: " Love, Love, Love, How It Did Betray Me, The Promise of Me , The Promise of We, Promises Broken, Dust and Memory. Blue, Blue, Blue, The Color That Is Me, There is no You, There is No We, Dust and Memory, Dust and Memory. "
Markus Pierson