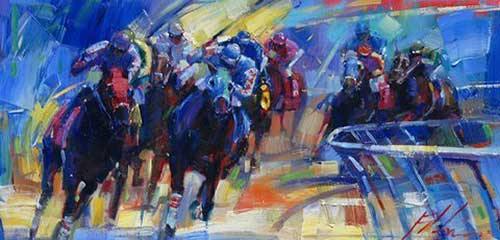 Across the Board
Original price
$2,500.00
-
Original price
$2,500.00
Dimensions:  24" x 48"
Medium:  embellished giclee' on canvas
Edition Size:  195
Availability:  Available
      Abstract expressionist painter Michael Flohr introduces his first image in a new series of works capturing the thrill, excitement and drama of horse racing.
     Across the Board" depicts a scene from the renowned Del Mar Racetrack in California. Legendary celebrity Bing Crosby was at the gate to greet the fans when the track originally opened in 1937. In the 1940s, Del Mar Racetrack was considered a "summer playground" for many Hollywood stars. Today, it remains one of the premier horse      Growing up in southern California, this racetrack is etched in Michael Flohr's childhood memories. As a longtime fan of horse racing, the artist was inspired to create a series of works that honored this passionate pastime. Flohr studied long and hard to perfect the anatomy of the majestic, thoroughbred race horses. He interviewed jockeys and trainers to grasp the true essence of this elite sport. The result: emotionally charged, masterfully painted works of art that are a testament to the artist's talent and the exhilarating allure of horse racing.
     In this image, Flohr's expert use of color, combined with bold, dynamic brushstrokes ignite the action in this high-octane composition. Color and form explode onto the canvas creating visual excitement as they race around the bend jockeying for position. A single glance is sure to incite any horse racing fan.
     The bets are placed... the anticipation mounts... "And they're off!" The powerful steeds storm from the starting gate, the purses are large and the stakes are high. Win, place or show, it's all good when you are betting "Across the Board".