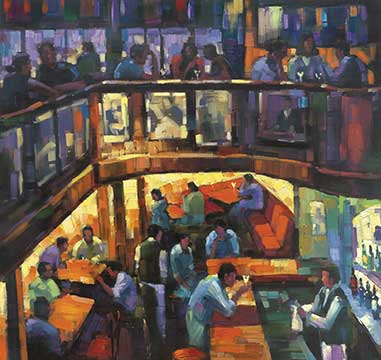 Vesuvio's
Original price
$1,200.00
-
Original price
$1,200.00
Dimensions:  30" x 30"
Medium:  embellished giclee' on canvas
Edition Size:  195
Availability:  Available
Vesuvio Cafe in San Francisco is a historical landmark. This unassuming corner cafe served as the epicenter of the West Coast Art Scene in the 1950s. Intellectuals, poets, and artists would meet long into the night to share their adventures into a new consciousness, and ultimately create what came to be known as The Beat Generation.
Established in 1948 by an art-lover named Henri Lenoir who was looking to create a bohemian gathering spot, Vesuvio Cafe was the quintessential backdrop for intimate conversations between Jack Kerouac, Allen Ginsberg, Neal Cassady, and Lawrence Ferlinghetti, who opened the famous City Lights Bookstore next door in 1953.
Michael Flohr first became familiar with the cafe during his years as an art student at the prestigious San Francisco Academy of Art University. He immediately felt this welcoming energy and began to capture the history of the cafe as he sat for hours sketching and drawing.
In this masterpiece, Flohr has taken inspiration from those early drawings and youthful curiosity to celebrate The Beat Generation. In the gestures of the patrons you feel the soundtrack of Bebop jazz, improvisation, and creativity. Hues of cadmium red, orange, and yellow define optimism and a sense of adventure. The finished composition perfectly balances the downstairs bar and the balcony on the second floor, captured from a bird's eye view.
A standout painting, Vesuvio's has now become an artistic landmark for Michael Flohr.