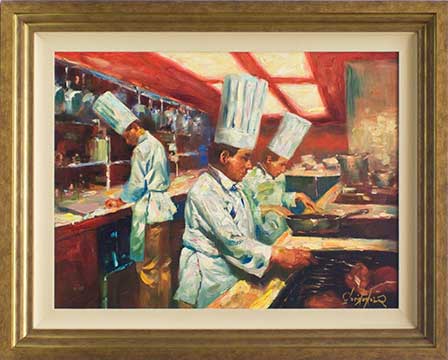 The Three Chefs
Original price
$1,250.00
-
Original price
$1,250.00
Dimensions:  18" x 24"
Medium:  embellished giclee' on canvas
Edition Size:  88
Availability:  Sold out at publisher but still available at Peabody Gallery
   In every great discipline there is an order. Within order there is often more than one talent dependant on the final outcome.
Contemporary painter Christopher M. celebrates the art of collaboration as he introduces us to the interworking of a professional kitchen in his most recent work entitled, "Les Trois Chefs" (Translation: The Three Chefs).

Within the most basic French cooking Brigade system, (Brigade de cuisine) there are three chefs present; the "chef de cuisine" or executive chef, the sous chef, and the line chef. Each chef has a particular specialty and they work in unison and with great precision to create and endless repertoire of fine culinary dishes.

Capturing the heat of the kitchen, Christopher M. applies his brushstrokes to the canvas in warm saffron yellows and cayenne red to imply the delicious aroma of the cuisine du jour. The contrasting hues of crisp white and blue adorn the chef's toque Blanche, (French for "white hat"). Like the three tenors, he paints the mastery of the chefs as they work together composing a compilation like that of a symphony.

"Les Trois Chefs" is a masterpiece that reminds us that two heads are better than one, and in this case, "Three Chefs" are just right!