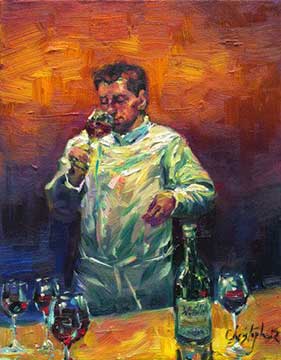 The Perfect Pairing
Original price
$650.00
-
Original price
$1,045.00
Dimensions:  13 1/2" x 18"
Medium:  embellished giclee' on canvas
Edition Size:  88
Availability:  Available
Young contemporary artist Christopher M. is known as "The Painter of Chefs" continues his artistic legacy with delicious fervor as he paints a tribute to the culinary arts. Seeking to capture the intensity, dedication, creativity that is executed daily behind the scenes in a fine food kitchen, Christopher M.'s images resonate deeply with the chefs that work hard to master their craft. Fluid with motion, each composition expounds upon the parallels of fine art, the culinary arts and the ultimate desire to please the patron. The artist has a deep appreciation for the hard work and creativity that like fine art, the culinary arts embrace. Christopher M. celebrates that which we seek to enjoy; fine art, fine wine and fine food and like a Master Chef striving to create the ultimate culinary experience, Christopher M.'s paintings are sure to satisfy even the most discriminating artistic palate.