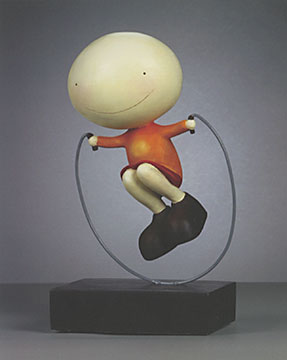 Skipping
Original price
$1,995.00
-
Original price
$1,995.00
Dimensions:  15 1/4" x 8 3/4" x 6"
Medium:  Hand painted resin
Edition Size:  395
Availability:  Available
"The lost songs of childhood when we skipped in the rain, ran through puddles for our fun, we were caught in a moment, a place without fear." Mackenzie Thorpe's sculpture, "Skipping" conveys such buoyant optimism and hope. The excitement of sculpture for Mackenzie is the chance to explore his critical themes and icons found in his paintings. Children with large heads and broad smiles remind us to rise above whatever challenges are in the path. This child transports us back to a happy carefree time in childhood when the challenge was to be able to jump rope.