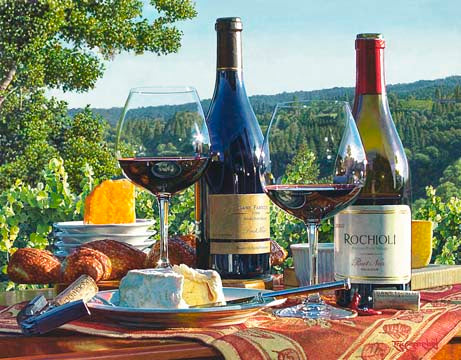 Passion for Pinot
Original price
$1,395.00
-
Original price
$1,740.00
Dimensions:  25" x 32", 30" x 38"
Medium:  giclee' on canvas
Edition Size:  100 small, 60 medium
Availability:  Available
Just before sunset on a late summer's day, a cloth-covered table presents a choice of elegant and seductive Pinot Noirs for the consummate pinot lover. Cuddling close to the rich, dark wine are buttery croissants and a sampling of imported cheeses: a bold Irish Cheddar, double cream French Brie, and fragrant Pecorino. Musing that this perfect combination might well be enough, it causes one to flirt with idea; why not indulge the "Passion for Pinot" and skip dinner tonight?