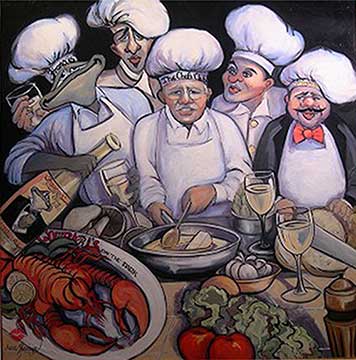 Over the Grill Gang
Original price
$650.00
-
Original price
$850.00
Dimensions:  26" x 26", 36" x 36"
Medium:  giclee' on canvas
Edition Size:  50 small, 50 large
Availability:  Available
Greetings from Louisiana,
     Francois is a member of this marvelous cooking club that he cooks with whenever he is in town.  Actually he is a member of several cooking clubs all over the globe.  He is quite the culinary master.  This particular group takes their cooking, eating and drinking very, very seriously.
     Francois plans to introduce his most recently matured wine from his vineyard in France for this gathering.  This will be a big surprise for the fellows.  Francois never does anything in a small way.
     I, of course am along to capture for posterity the very moment of Francois presenting the wine while in the midst of cooking with the guys.  They all look so cute in their chef's hats and aprons wielding those utensils and big knives.  It's always a miracle they don't chop off a hand or finger as much alcohol as they consume.  The food is always magnificent.  I'm the official taster.