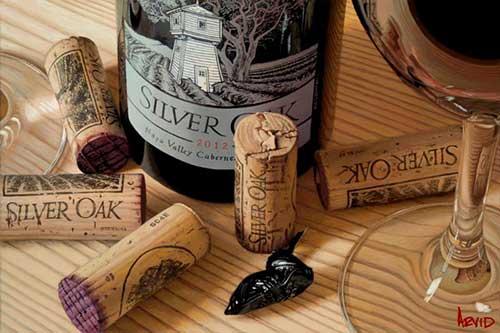 Open To Suggestions
Original price
$1,850.00
-
Original price
$3,350.00
Dimensions:  20" x 30"
Medium:  giclee' on canvas
Edition Size:  195 regular, 75 embellished artist proof
Availability:  Available
Hinting at an evening spent in great company, tasting and comparing different vintages of the same wine, "Open to Suggestions" illustrates, once again, that nobody captures details and nuance like Thomas Arvid. Taking a single element that has the potential to be redundant (all corks from the same wine), Arvid arranges them unexpectedly and shows us, unequivocally, that each one is unique. By highlighting the different shades of the corks, the individual stains, and the differing textures, Arvid takes something repetitive and predictable and transforms it into something intriguing and unexpected, much like a jazz musician transforming a traditional melody into an exciting arrangement.
Since taking a leap of faith in the early 1990s, quitting his day job, and selling his possessions so he could focus solely on creating art, Arvid has been adamant that his work be original. Painting wine at a café in Atlanta early in his career, he became locally known as the "Wine Artist," and quickly had a waiting list for his next painting. He took his first trip to Napa Valley to make sure no other artists were already exploring his oeuvre, and history was made. His relationship with Silver Oak Cellars was planted in the mid-1990s and continues to flourish today. In celebration of Arvid's release of "Open to Suggestions," Silver Oak Cellars is providing corks for customized frames for this dynamic work of art, a terrific opportunity for collectors created by Arvid's investment in authenticity and quality in his work and relationships.