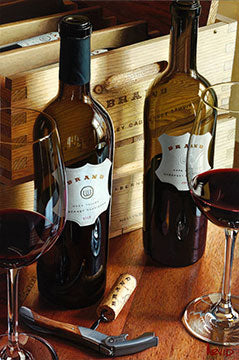 Lucky
Original price
$1,850.00
-
Original price
$3,350.00
Dimensions:  43" x 28 3/4"
Medium:  giclee' on canvas
Edition Size:  195 regular, 75 embellished artist proof
Availability:  Available
Soaked in the warm, rich tones of the wood table and the ruby red wine, "Lucky" is a testament to Thomas Arvid's singular ability to capture the opulence and seduction of sharing a beautiful wine with great friends. Each segment of this gorgeous painting is a work of art on its own. From the deep shadows on the crate, to the intricate reflections in the glass, each detail is perfectly crafted and proof that it is not mere luck that made Arvid "America's Preeminent Painter of Wine." While he feels "Lucky" to do what he loves, we feel "Lucky" that he shares his talent and passion with us.
As an artist, Thomas Arvid strives not just to create beautiful works of art, but to also craft his life like a work of art. Whether it is an easy, festive table setting for a tropical breakfast with friends, a fabulous chef prepared wine dinner under the stars, or a seasonal supper prepared for the family shelter, he looks for all the details to put together an artful whole. When work called him to move to Maui this year, he seized the opportunity to show his boys how to live an artful life. Arvid knows how "Lucky" he is and transforms his gratitude into service to the community: through donations, ambassadorship and hands-on service to the needy.