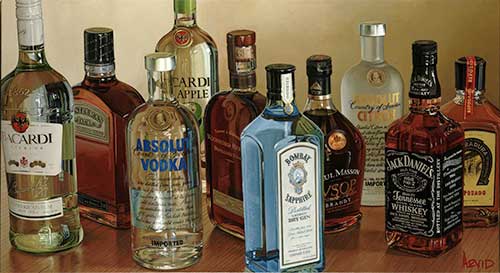 Lifting Everyone's Spirits
Original price
$1,850.00
-
Original price
$3,350.00
Dimensions:  44" x 24"
Medium:  giclee' on canvas
Edition Size:  325 regular, 135 embellished artist proof
Availability:  Available
Once again, Arvid raises the bar with "Lifting Everyone's Spirits." Stunning in its vibrant color, Arvid's well-stocked composition is a mastery of precision. The light and shadow in the transparent liquid is captured with amazing dexterity, serving as a dynamic backdrop to the finely detailed texture of the labels. In contrast, the striking blue and amber introduce a new palette in which Arvid explores depth and reflection. Artfully arranged in a ten bottle collection, it's a classic Arvid – with a twist.
Entertaining is perhaps the third most common activity at the Arvid household, not to be outdone by painting and strumming the ukulele. With a constant throng of after-school visits, neighbors, and those lucky enough to stop by for supper, it's easy to see why Arvid takes so much pleasure in a full bar: "I love to unwind with a glass of wine, but it's great to know that when my friends and neighbors stop in, I can make their favorite cocktail."