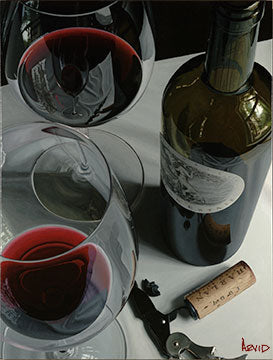 Inspirational Living
Original price
$1,850.00
-
Original price
$3,350.00
Dimensions:  42" x 31"
Medium:  giclee' on canvas
Edition Size:  325 regular, 135 embellished artist proof
Availability:  Available
Exceptionally refined, selective in every detail, incomparable in design: the hallmarks of fine craftsmanship embody the spirit of "Inspirational Living." Continually achieving even greater mastery in his compositions, Arvid's discerning eye captures every detail, luring us beyond the glass to illuminate the surrounding beauty. Just as every sip reveals the complexity of an extraordinary glass of wine, each reflection reveals a composition within a composition.
For Arvid, aspiring to excellence at the easel is inspired by the choice to live artfully, seeking and sharing the best in life. Whether it's going out of the way to buy fresh ingredients at the local farm or finding a rare vintage to share with those you love, some things in life are just worth having.