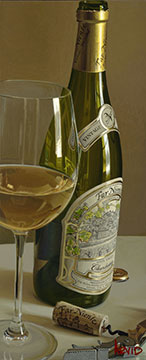 Gold Standard
Original price
$1,850.00
-
Original price
$3,350.00
Dimensions:  43" x 17 3/4"
Medium:  giclee' on canvas
Edition Size:  195 regular, 75 embellished artist proof
Availability:  Available
"Gold Standard" captures a moment of carefree indulgence befitting the Italian phrase of its inspiration, "Far Niente" or "without a care." Reminiscent of a bygone era, the dulcet tones of the finely crafted bottle of chardonnay, a single glass and the pulled cork draw us into an unforgettable evening well underway.
Just as a fine wine becomes more refined, Arvid's art continues to evolve through the complexity and mastery of his skill. Arvid shares not only a passion for wine but also a deep connection to the winemakers he admires since both embody a high quality of craftsmanship. Working in layers, Arvid can take from three months up to a year to complete one of his elaborately detailed oil paintings. Like the first taste of a much anticipated vintage of wine, each of his masterpieces is well worth the wait.