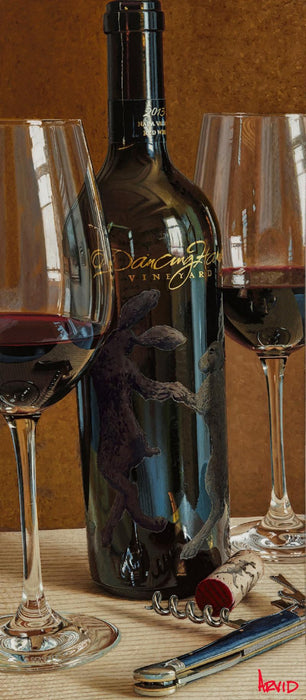 Garden Party
Original price
$1,850.00
-
Original price
$3,350.00
Dimensions:  43" x 18 3/4"
Medium:  giclee' on canvas
Edition Size:  195 regular, 75 embellished artist proof
Year of Release: 2018
Availability:  Available
Thomas Arvid may be best known for his incredible talent and his ability to bring life and meaning to what would otherwise be "still life" paintings, but he is almost equally famous for his charismatic personality, his joie-de-vivre, and his incredible kindness. His infectious happiness and joy in life have perhaps never been portrayed on canvas with such poignancy as in "Garden Party." Inspired by the larger-than-life sculpture of frolicking rabbits in front of Dancing Hares Winery in St. Helena, "Garden Party" and the bottle itself show how art inspires art. And who isn't charmed by a circle of dancing hares? A celebration of beauty and craftsmanship, "Garden Party" reminds us that beauty on the inside is reflected on the outside, and calls us to exuberantly celebrate both.
While Arvid focuses the bulk of his creative energy on his paintings, he is also always dabbling in other arts. Often found in a circle of friends around a campfire, entertaining everyone with his guitar, his easy singing voice, and his larger-than-life smile, Arvid effortlessly manifests joy and comradery. He is also an avid cook, and his art historian wife, Vanessa, has often said that if he wasn't a visual artist, he would be a chef. He channels those efforts into not only feeding friends and family, but is dedicated to providing the local family shelter with home cooked, lovingly prepared meals on a regular basis, taking great satisfaction in creating memorable and delicious meals for the shelter as he does in creating masterpieces for his collectors. Arvid truly radiates beauty from the inside out.