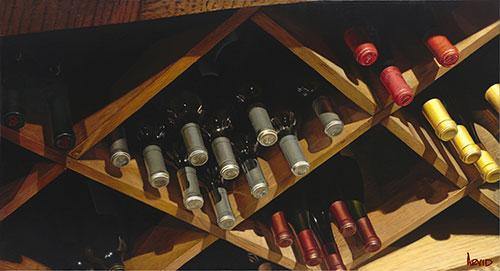 Bin There
Original price
$1,850.00
-
Original price
$3,350.00
Dimensions:  23 1/4" x 43"
Medium:  giclee' on canvas
Edition Size:  195 regular, 75 embellished artist proof
Availability:  Available
     The fetching array of bottles in "Bin There" offers a welcome sight for connoisseurs of both art and wine alike. Interspersed with bold bursts of red and gold, the spellbinding curvatures of the bottles juxtaposed with the clean diagonals of the wood encourage the eye to voyage around the canvas and drink in this handsome collection. One can almost taste the anticipation of the seasoned traveler returning to the beloved cellar, eager for just a glimpse at the memories mapped out by each precious bottle.
     Having achieved widespread success and forged cherished relationships with winemakers and collectors across the country, Thomas Arvid has the constant privilege of traveling and enjoying the experiences of each new locale. While the thrill of travel is its own reward, nothing pleases Arvid quite so much as returning home with a new bottle in hand to share as only Arvid can – through breathtaking depiction on canvas or an unforgettable glass to pour for a friend.